Prashneeyam is a term that combines two classical books on Horary Astrology: Prashna Marg and Krishneeyam. These books were written by great sages of Kerala, South India, and they contain the secrets of predicting any event or situation based on the time and place of asking a question. Prashna Marg deals with general principles and rules of horary astrology, while Krishneeyam focuses on specific topics and techniques. Together, they form a comprehensive and reliable system of answering any query with precision and accuracy.
Why Learn Prashneeyam Course?
The Prashneeyam course by Vinayak Bhatt is a comprehensive course on horary astrology. It covers all aspects of horary astrology, from the basics to advanced techniques. The course is taught by Vinayak Bhatt, who is a well-known and respected astrologer. Prashneeyam Course is one of the most popular and widely practiced systems of Horary Astrology in India and abroad. It has many advantages over other methods, such as:
It does not require the birth details of the querent or the person involved in the question.
It can answer any question, whether it is related to health, wealth, career, marriage, children, education, travel, litigation, spirituality, or anything else.
It can give clear and specific answers, such as names, dates, places, numbers, colors, directions, etc.
It can reveal the hidden causes and effects of the situation, as well as the remedies and solutions.
It can also give guidance and advice on how to improve one's life and destiny.
How to Learn Prashneeyam Course?
Vinayakbhatt.com is one of the first Place that introduced Prashna Marg and Krishneeyam as online courses. This course is conducted by Shri Vinayak Bhatt, who are well-known and experienced astrologer and teacher. They will teach you the theory and practice of Prashneeyam in a simple and systematic way.
The course consists of weekly lessons that cover various topics and concepts of Prashna Marg and Krishneeyam. You will receive the lesson content online and you can study at your own pace. You will also have to take online tests every week to assess your progress and understanding. You will also get feedback and guidance from the teachers throughout the course.
The course is open for anyone who wants to Learn Prashneeyam, whether you are a beginner or an advanced student of astrology. You do not need any prior knowledge or experience in horary astrology to join this course. All you need is a keen interest and a willingness to learn.
The Prashneeyam Course is divided into three parts:
Part 1: This part covers the basics of horary astrology, such as the meaning of the planets, signs, and houses.
Part 2: This part covers advanced techniques in horary astrology, such as predictive techniques and rectification.
Part 3: This part covers case studies, which give you the opportunity to apply what you have learned in the previous two parts.
The Prashneeyam Course is a valuable resource for anyone who wants to learn horary astrology. It is comprehensive, well-taught, and practical. If you are serious about Learning Horary Astrology, then I highly recommend the Prashneeyam course.
Prashneeyam Course Content:
Introduction Horary Astrology
Qualities of astrologer and Querist
Birth Horoscope and Prashna Horoscope
General principles of Horary Astrology
Arudha Prashna
Introduction to Deva Prashna
Fructification of Karma
Medical Astrology in Horary Astrology
Vivah Prashna – Matrimony and Horary Astrology
Santana Prashna – Progeny and Horary Astrology
Profession and Business in Horary Astrology and Many More.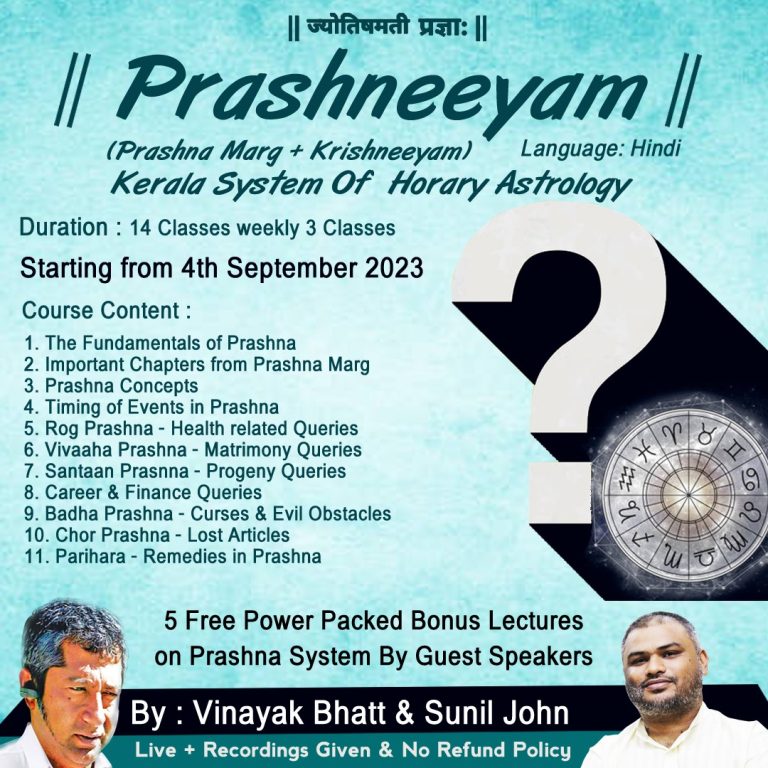 Here are some of the Benefits of taking the Prashneeyam Course:
Learn the basics of horary astrology
Learn advanced techniques in horary astrology
Apply what you have learned in case studies
Learn from a well-known and respected astrologer
Get access to a community of other horary astrologers
If you are interested in learning more about horary astrology. And you are interested in taking the Prashneeyam course, then I highly recommend the Prashneeyam course.
Vinayak Bhatt's Other Services
Both comments and pings are currently closed.